Jane Burgess Officially Files to Run for Zionsville Mayor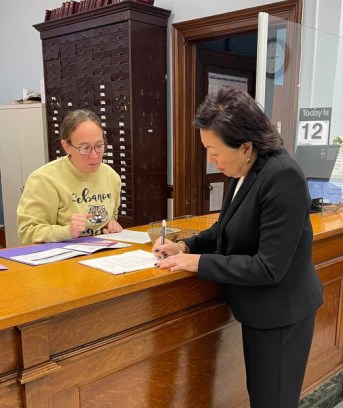 Long-time resident and community leader, Jane Burgess, filed the official candidate paperwork with the Boone County Clerk to run for the Republican nomination for Mayor of Zionsville in the May 2023 primary election.
For the past 20 years, Burgess has been serving Zionsville and the surrounding communities in a myriad of ways. After beginning her career in education as an elementary school teacher and later as a consultant in mentoring partnerships for school corporations, she turned her attention to community engagement by serving as a board member, leader and volunteer for various organizations.
"I am excited to make it official. We formed an exploratory committee in February of 2022, and from all of my conversations with the great people of Zionsville, the message is clear — we deserve better. Better leadership, transparency, collaboration and fiscal responsibility.
I have the leadership skills, the local knowledge and deep relationships from my years here to bring back a collaborative working environment, a restored trust and financial reputation, and a highly competitive economic development climate that will expand and diversify our tax base."
Burgess's platform is centered on three primary issues: Smart Economic Development and Jobs, Fiscal Responsibility & Leadership, and Public Safety. If elected Mayor, she is pledging to restore a position of fiscal responsibility and professionalism within the Mayor's Office. "I will work WITH the Town Council to ensure we preserve our charm and the thriving businesses on Main Street. At the same time, my administration will be laser focused on smart economic development and jobs. We must continue to expand and diversify our tax base and alert the business community that Zionsville is open for business. This will strengthen our Town, protect our property values and ensure a stable economic climate for years to come."
Jane holds a bachelor's degree in Education from Purdue University and a Master of Education from West Chester University in Pennsylvania. She was a 12-year member of the Zionsville School Board, and currently serves on the Hussey-Mayfield Library Foundation Board and the Zionsville Lions Club, among others. She and her husband, Claude, have two grown children, Kristin and Thomas.
The primary election to determine Republican and Democratic nominees will be held on Tuesday, May 2, 2023. For more information on Jane's campaign, please visit her website at janeforzvillemayor.com